In 2017, George Chow was elected as a Member of the Legislative Assembly representing the community of Vancouver-Fraserview. George has also been named the Minister of State for Trade.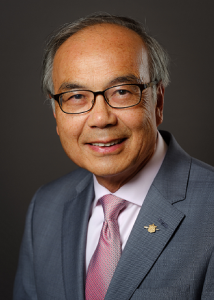 Prior to this, George has served two terms on the Vancouver City Council from 2005 to 2011.
George was born in China and came to Vancouver in 1965, growing up on the edge of Vancouver's Chinatown. He graduated from Gladstone Secondary and then went on to UBC where he studied mechanical engineering, and graduated in 1975. George has had a 30-year career with BC Hydro in power generation.
George is a member of the Association of Professional Engineers and Geoscientists of BC and a Fellow of Engineers Canada.
He also served on many community organizations as a volunteer including: the Urban Spirit Foundation, Vancouver Public Library Board, Chinese Cultural Centre of Greater Vancouver, Boys and Girls Clubs of South Coast BC, Chinese Benevolent Association of Vancouver, Vancouver Chinatown Merchants Association, S.U.C.C.E.S.S., and various family associations. He was actively involved with the building of the Chinese Cultural Centre in Vancouver's Chinatown during the 1970's and 1980's.